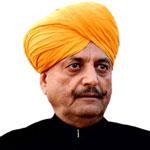 It gives me immense pleasure to put on record the all round progress and development of Dogra Law College as a pioneer Institution of Legal Education in the private sector in the State of J&K is indeed marvelous and appreciable. The Dogra Law college has proved its credentials in the society within a short span of time by fulfilling the dreams of those aspiring for innovative quality legal education.

I hope Dogra Law College being a temple of Legal Education shall be harnessing all its efforts to achieve further excellence in skill learning and its application. Established in 2000 the college has completed 18 years of its dedicated service to legal education. Law according to us not a super structure or an activity of the state but a part of life.

Guided by this philosophy of law, Dogra Law College has nourished its own educational culture. We are striving to meet National and Global challenges by effectively combining the theory and practice of law. Constant care, an abiding concern, a spirit of dedication and an unfailing commitment to the future of its students is the hallmarks of this institution. I want to encourage the budding students of law to join us to experience a taste of our culture and spread our message of unswerving commitment of equity and justice. I convey my best wishes to the students and the faculty of the College and hope that with their concerted efforts Dogra Law College will gain national and internationl repute. Best wishes to all the concerned.
Th. Gulchain Singh Charak

Chairman