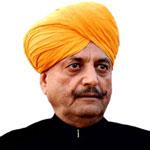 Dear Students,

It is a matter of great pride and immense satisfaction to welcome our new entrance who wish to pursue Bachelors in Business Administration, Commerce & Arts to the Dogra Group of Colleges. I congratulate you for making the right choice to pursue your academic dreams in our prestigious and established professional centres of transformational learning.

For more than the last fifty years, I have been associated with school and Higher Education and it is heartening to see our institutions prospering and contributing to the societal norms leading to achievement of progressive and developmental goals.

Established under the aegis of Dogra Educational Trust, the three colleges viz. Dogra College of Education. Dogra Law College and Dogra Degree College enjoy a place of prominence and respect. Dogra Degree College continuing with its endeavor to impart knowledge has added on graduate level programmes in Arts and Commerce in addition to Business Administration. I congratulate Dogra Degree College and pray to almighty that they keep prospering and scale new heights in years to come. It has been our endeavor to provide perfect environment to develop the attributes of independent learning, problem analysis and solution, team work and leadership skills to create a balance of professional learning with soft skills.

Our abiding faith remains in excellence and therefore, a competent faculty, innovative pedagogy (teaching practices) supported by strong practical inputs, regular educational conferences, visiting faculty, seminars, workshops, field trips et al gives us an edge and sets us a cut above the rest. At all times our goal is to strive towards achieving global benchmarks.

Not only academics but in sports and literary activities also our students have achieved outstanding laurels with each passing year. Besides. Value Based education is as much emphasised upon as pride in our own culture.

The College Management is fully conscious of its responsibility towards providing the latest state of the art technology and infrastructure for students to achieve quality and excellence in educational pursuits. I am sanguine that you will enjoy the learning environment among the multicultural and multi regional student body in conducive surroundings and free but disciplined ambience.

We remain dedicated to our mission of unswerving commitment towards society and aspire to achieve greater glories with your cooperation in times to come.

I convey my good wishes to everyone associated with Dogra Educational Trust so that our students become a force to reckon not only in our state or our nation but also in entire world.


Th. Gulchain Singh Charak

Chairman