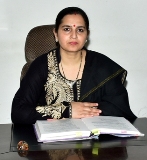 The value of life is not based on how long we live, but how much we contribute to others in our society----

Driven by this teaching of Buddha in mind, I embark upon this journey of taking over the reigns of Dogra Degree college, with an aim of reaching above and beyond the ordinary.

Its indeed a matter of great pride for me to get associated with the team of visionaries, the Dogra Educational Trust, which under the able guidance of a remarkable educationists and social reforms Th. Gulchain Singh Charak has come a long way and being in existence for more than 50th year of its functioning.

Under the aegis of Dogra Educational Trust, Dogra Degree College is successfully running its Bachelors in Business Administration, Commerce & Arts with a motive to shape aspirants' future and see it fructifying. We ensure that milestone are reached, but not stopped at, as every milestone reached is a motivation in itself and we are inspired to raise the bar and set a pace for achieving excellence.

Marching ahead as a torch - bearer of educational endeavors in the region , the college has carved a niche for itself and has positioned itself as an elite institution. Over here at Dogra Degree College, we have a team of deeply committed management, dedicated staff and above all sincere students, who come here in pursuit of excellence.

Our stress is upon all - encompassing guidance to the students, to shape them into fine human beings who would contribute positively to the society.

We aim to enthrall the students with our past achievements and join the institutions with their dreams, which we shall help realize through unflinching dedication as---- "Dreams and dedication are a powerful combination"
Ms. Bela Thakur

Principal